At GCT we believe that tourism must play a role in helping to protect Galapagos.  While the Islands are one of the most unique, ecologically pristine areas in the world, they are also vulnerable to human impacts with many species now endangered. We urge you, when planning your trip to Galapagos, to choose a tourism partner that reinvests in protecting these remarkable islands.
Our tourism partners recognise the important work of GCT and make financial contributions to our conservation programmes to help conserve and protect this amazing Archipelago. Many also encourage their clients to get involved and become members of GCT, a wonderful way to give something back to the wildlife that provides so many amazing and profoundly moving experiences. 
Become a GCT Tourism Partner
As a GCT tourism partner, your company will be demonstrating its commitment to protecting the fragile ecosystems and wildlife of the Galapagos Islands.
Steppes Travel
For over 30 years, Steppes Travel have offered holidays to over 100 destinations, aiming to create memorable trips that benefit local people, wildlife and habitats as much as they do the traveller. Steppes are a Certified B Corporation, recognised for their high standards of social and environmental impact. Steppes support local charities across the world, offsetting carbon emissions from flights, insisting that on-the-ground partners reduce single-use plastics, and pioneering their own campaigns to promote sustainability. Steppes have supported GCT's Plastic Pollution Free Galapagos programme and the Gills Club, and are organising our 2024 GCT Supporters' Cruise. 
Golden Galapagos
Golden Galapagos own four luxury yachts operating in Galapagos and offer luxury experiences in mainland Ecuador. The company aims to be "committed to creating an ecosystem where we are all active agents of change, producing a real transformation in the Galapagos Islands and building a future that preserves the magic of life." As well as being a GCT corporate member, Golden Galapagos is supporting GCT's ocean conservation work.
Hurtigruten Expeditions
Hurtigruten Expeditions is the world's largest and leading expedition cruise line with a focus on exploration, adventure, and science. The company has been taking adventure travellers to unique and inspirational destinations off the beaten path since founding expedition cruising in 1896. Hurtigruten Expeditions currently offers over 150 itineraries across five continents aboard eight custom-built small expedition cruise ships.
Royal Galapagos
Royal Galapagos is an exclusive Ecuadorian tour operator, with the largest small boat fleet in the Galapagos Islands. They are supporting several GCT projects, helping with raising awareness and fundraising. Among several sustainable approaches, Royal Galapagos have measured their carbon footprint and compensated accordingly. Royal Galapagos vessels are family-owned and employ a local workforce. The company aims to create journeys that encompass the magic of the Islands, with comfort and environmental responsibility.
Ice Tracks / Wild Tracks
Ice Tracks / Wild Tracks is a small, dedicated adventure travel company passionate about exploring the far reaches of the world and offering bespoke trips to Patagonia, Ecuador, Galapagos, Namibia and Botswana. They are also Arctic and Antarctic specialists offering these trips through Ice Tracks Expeditions. GCT is working closely with Wild Tracks on supporter cruises to Galapagos, and we were delighted to work with them on our special conservation cruise to Galapagos in June 2022.
Last Frontiers
Last Frontiers has been supporting Galapagos Conservation Trust for over 20 years. As a small tour operator specialising in tailor-made tours to Latin America, they are keenly aware of the need for sustainability in all aspects of their and their clients' activities. In Galapagos they work with a carefully chosen selection of boats and island lodges.
Think Galapagos
Think Galapagos is an owner-run business with over 20 years' experience organising exceptional holidays to Ecuador and Galapagos for individuals, couples, families and friends. They are true destination experts with a strong focus on responsible travel. Their strong network of local contacts allows them to create holidays to Ecuador and Galapagos that take guests beyond the bounds of ordinary travel.
Metropolitan Touring
For over 65 years Metropolitan Touring have shared the wonders of Ecuador and Galapagos with the world, amassing thousands of unforgettable stories from their guests. They pride themselves on their warm and friendly spirit, their passion for the destinations where they operate, and their vision for the future of our planet. Metropolitan have been supporting GCT for many years by donating cruises for fundraising prizes.
Ecoventura
Ecoventura is a family-owned luxury expedition cruise company.  As both an owner and operator of upscale yachts, they provide transformative experiences by connecting explorers with Galapagos' inspiring wildlife, while aiming to minimise their impact on its delicate ecosystems. Ecoventura is supporting GCT by donating cruises as fundraising prizes.
Latin Routes
Latin Routes organise truly individual holidays to Latin America. In 2018 they helped raise over £1,000 for Restoring Floreana, through encouraging client donations, promoting the charity to their travel agent partners and even holding a 'bake off' in their office.
Journey Latin America
Journey Latin America has been offering responsible visits to the Galapagos Islands and beyond for over 40 years. Their specialist focus throughout Latin America allows their team of travel experts to offer unique experiences throughout the continent. Journey Latin America promotes a reduction in single-use plastics, animal welfare best practice and supports a range of social and environmental projects throughout Latin America.
Latin Trails
Latin Trails offer customised trips to Galapagos, as well as to Ecuador and Peru. Their aim is to give people unique experiences, especially on their Galapagos cruises. The company believes strongly in sustainable tourism and constantly reviews their tour programmes in order to find ways to minimise the impact their visits have on the localities in which they operate.
Uniquely Galapagos
Uniquely Galapagos is a responsible tour operator based in Puerto Ayora, Galapagos, that provides a variety of high quality, sustainable experiences in Ecuador. Specialising in the Galapagos Islands and run by an Englishman, Brett Peters, they aim to combine British customer service with 'Galápagueña' hospitality to bring a local experience of the Enchanted Islands to all who travel with them.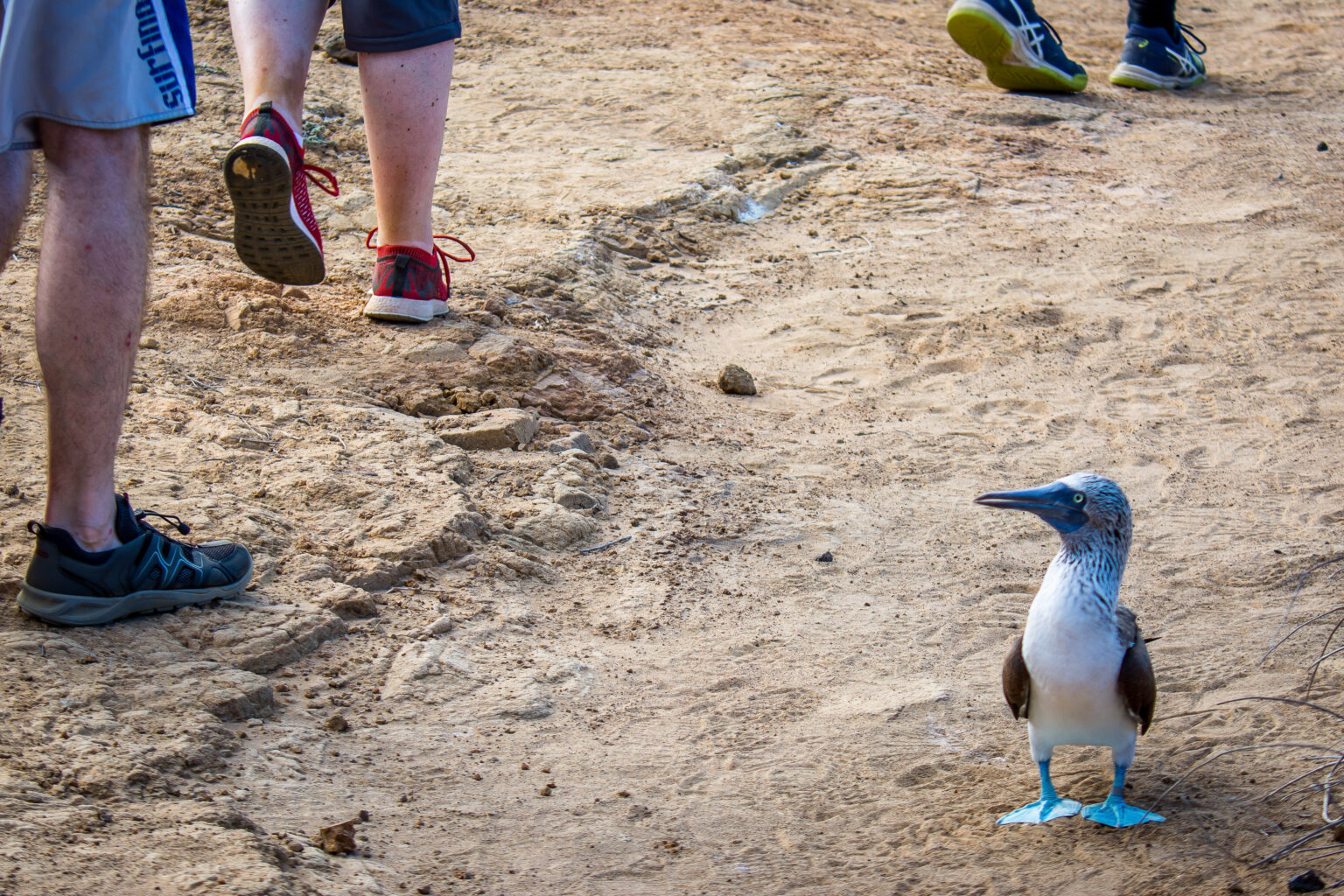 Travelling responsibly
Visiting Galapagos is often a once-in-a-lifetime opportunity. Being prepared and informed will help you get the most out of your visit whilst ensuring that you keep your impact on these fragile islands to a minimum.